Podcast: Play in new window | Download
Subscribe: Apple Podcasts | Google Podcasts | RSS
Let's Rock!
This week we react to the first four masterful episodes of Aziz Ansari and Alan Yang's, Master of None. Amita shares the particular joy that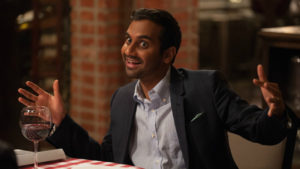 comes with watching this South Asian auteur do his his thing!
Then we explain why watching the current season of Scandal is the equivalent to having Pity Sex!
Next we introduce a new segment, Way Into, in which we present a guide for you to become as 'Way Into" a piece of pop culture as we are. In this inaugural segment, Sean presents a Way Into
. . .  Twin Peaks – and tells you everything you need to know and do to prepare for the Twin Peaks premiere on Showtime on Sunday May 21st.
Then we celebrate our 75th episode in a very special way!
And as always, we end with The Big Sell. Amita rates and reviews Sean's Instagram Big Sell from last week and sells him on a YouTube series that involves chicken, celebrities and hot sauce… Spicy!
Thanks to all of our listeners! Whether you've listened from the beginning or just recently found us – we are thrilled to have you here for our special milestone episode!
The best is yet come!
Sean's Way Into Twin Peaks
Watch Season 1

If you only have time for two eps out of the 7 watch The Pilot and episode 3 – Zen, or the Skill to Catch a Killer.

 Watch Season 2 episodes 1-7.

If you only have time for two episodes watch the season premiere + episode 7 Lonely Souls (Laura Palmer's Killer is REVEALED!)

Watch Fire Walk with Me.
Watch Wild at Heart
Read: The Secret History of Twin Peaks
Follow us on Twitter and Instagram @popinsiders