Inside Pop takes a deep dive inside the week in Pop Culture. Each week the hosts, Amita Patel and Sean David Johnson, bring their knowledge of the entertainment industry along with their diverse viewpoints to cover the stories you need to know about and care about. The duo bring a welcome diversity (they are African American and Indian American; Male and Female, Gay and Straight, Married and Single) into the pop culture podcasting landscape.
Frequently Asked Questions:
In the movie version of this podcast, who would play you?
Sean: Chiwetel Ejiofor, for sure! He's a great actor, he kind of sort of, slightly if you squint your eyes looks like me. And he's willing to do nudity.

Trying hard to look like Sean
Amita: I'd have the stunning Rosario Dawson play me. (I'm constantly mistaken for being Hispanic, so I'm running with it. Sorry Mindy Kaling/Parminder Nagra/Priyanka Chopra and Archie Punjabi!)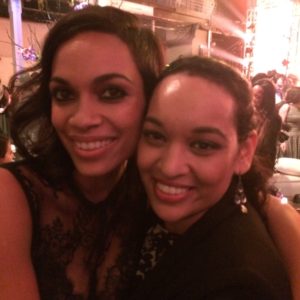 Yes, that's me and Rosario- she's so sweet and Sean took this photo of us.
If you could see one deceased artist one last time in concert, who would it be?
Amita: Michael Jackson, Whitney Houston, Amy Winehouse…now I'm depressed…
Sean: Prince, Michael Jackson, Donny Hathaway, David Bowie…all on the same stage together.
Favorite Grey's Anatomy quote of all time?
Sean: You're my person. (Cristina Yang). Watching Grey's is one of the few times I allow myself to drop my cynical veneer.
Amita: Pick me. Choose me. Love me! (Meredith Grey)